Did you know that roughly a third of all men don't wash their face every day? More than half don't even use face wash regularly, and about 11 percent have never used it at all.
Some people are under the illusion that men don't need to take care of their skin to look good. It seems like all they need is a splash of water and some soap, but not every man is the same. Some suffer from problems with acne, eczema, or other skin conditions.
Here's why men should consider getting facials in Birmingham, AL and what they need to know.
Men's Skincare Needs
One of the reasons women may need more skincare than men is because of their constantly changing hormones. They have a multitude of different genetic and life factors that can cause those hormones to fluctuate, and it has an effect on their skin. While men don't have the same issues, their skin does require some attention that a daily face wash can't handle.
First, male skin is approximately 20 percent thicker than female skin. If you tried to use the same kind of serums and moisturizers as women your age, they may not prove as effective.
Second, male skin is generally more oily than its female counterparts. Men have more sebaceous glands and larger pores. That also means their skin runs drier than females.
Finally, regular shaving can cause extra stress on your skin. Some men may develop tiny cuts when they shave, which can result in ingrown hairs. Your skin will also be more sensitive in those areas.
Benefits of Facials for Men
Getting a facial brings a lot of benefits for clients. The facialist deep washes your face, removing any impurities. They can assess your problem areas using their specialized tools, and the process is often relaxing.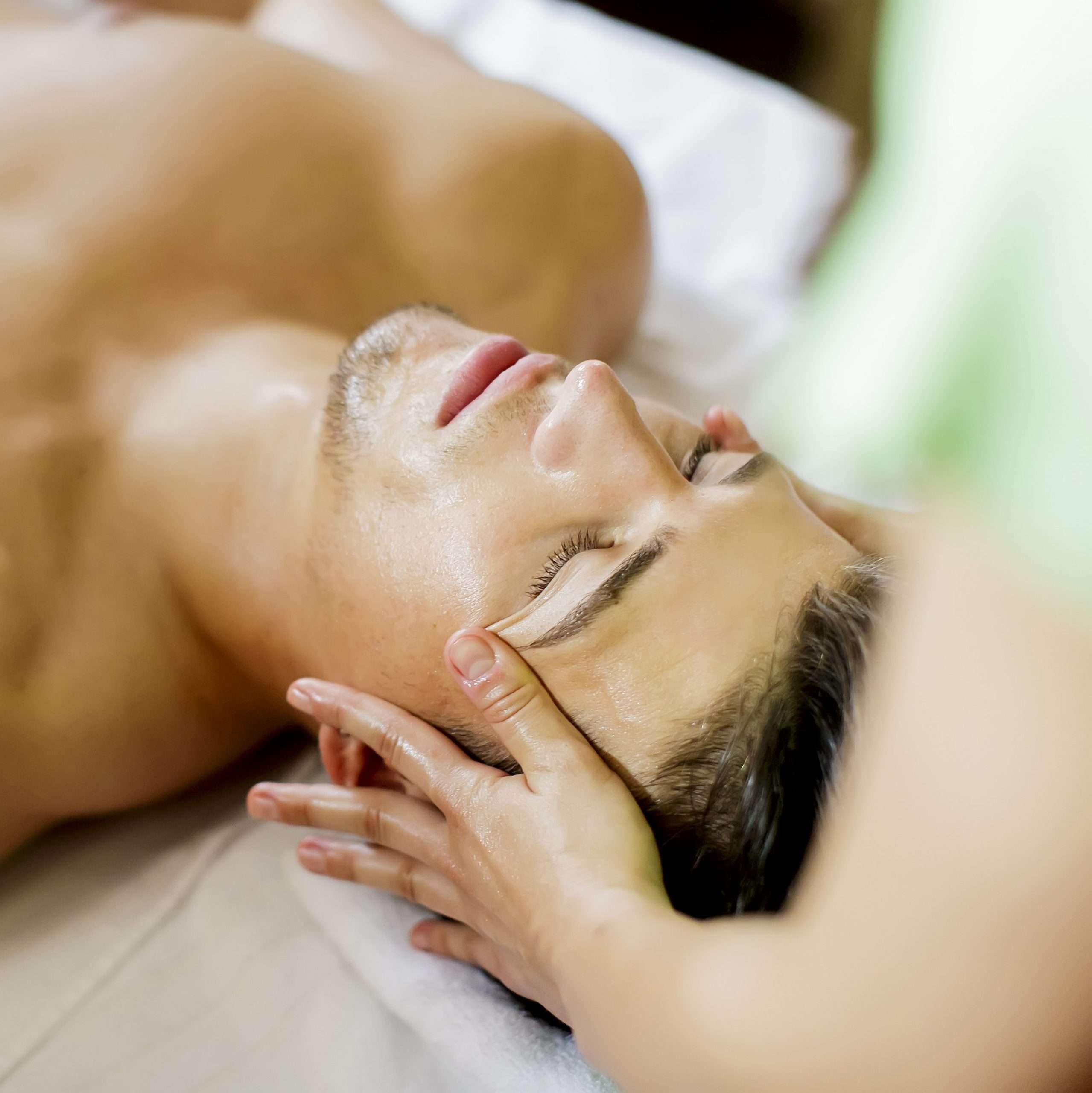 Deep Wash Your Face
First and foremost, a facialist in Birmingham can offer a treatment to deep clean your skin. They're an important way for your to detox deep down into your pores.
Some facials begin with a steam to open up your pores and soften up dirt. Others may use facial massages or other cleansers to clear out your skin. You should expect much better results than if you were to do so at home.
Remove Blackheads
With the pores opened up, the facial can get much better access to problems like blackheads. This may involve a combination of a peel-off mask followed by manual extraction. The extraction process can be uncomfortable, but it's done safely to reduce scarring or skin damage. Your facialist will also clean out the pore when the blackhead has been removed.
Exfoliate and Renew Skin
The problem with at-home exfoliants is that they may end up being too abrasive or not effective at all. This is especially common when you DIY the facial. A professional facial uses exfoliating products that can target deeper layers of skin. These chemical exfoliators are dangerous to use at home if you're untrained.
Learn Problem Areas
Not many men pay attention to their skin. It's not like they all spend hours in front of the mirror doing their makeup or plucking out hairs. As such, there may be problem areas that go unnoticed. Male facials are a good way to learn more about your skin and its needs. It may be that your skincare routine is doing more harm than good.
Better Equipment
Last but not least, professionals have much better equipment than you do. Their treatments may include electric currents, ultrasound, cold therapy, and more. The facialist is also trained to use the equipment to help you get the results you want.
Types of Facials in Birmingham
There isn't one single type of facial that's the best option for your skin. Everyone's face is different, and you may want or need more hydration as opposed to oil stripping. For example, an organic facial can soothe and renew your complexion with natural ingredients.
There's an aromatherapy facial that uses essential oils to create a tranquil feeling. Teens can get a special facial that offers a deep pore cleansing to help with all their acne problems. Prices will vary depending on the type of treatment and how long it takes. You may also need to pay more if there are specific tools or chemicals used.
Prepping for a Facial
There are a few things you need to do before you get your facial treatment. First, shave off any hair on the areas you're treating. However, don't shave right before a facial, as your skin will be tender and sensitive. You could also use an electric razor to trim your beard and mustache.
Expect some level of redness and irritation, depending on the type of treatment you get. At the same time, don't expect immediately visible results. Some of the effects are more long-term. Finally, make sure to communicate any specific concerns to your esthetician or facialist. This can help guide them to the best treatment option for your skin type.
Skincare Products to Use Afterward
The first skincare product you need after a facial is a good face wash. Since your skin may be more sensitive immediately after a facial, you can opt for a gentle cleanser. More harsh face washes may cause irritation. Follow up with a moisturizer. You can always apply sunscreen afterward if it doesn't contain SPF. A home facial mask is another good option if you want to maintain the results of your facial.
Get Your Facials in Birmingham, AL
Just because you're a man doesn't mean you should take your skin for granted. Your face is part of how you make a good impression, land jobs, and get dates. Take some time to care for it now before it's too late. Visit Habitual Lash if you're looking for facials in Birmingham, AL. We offer both facial treatments as well as lash extensions and services.