Getting your lashes done is a pretty exciting experience! So, you will want to take the best care of them so they last as long as possible. With fall right around the corner, you may not be thinking too much about swim weather. However, living in the south allows us a little more time to enjoy our water activities.
With that in mind, if you're looking for lash extensions in Birmingham, AL, and love to swim, you may want to explore some myths about lash extensions and swimming. Don't allow your lovely lash extensions to interfere with your plans to go to the beach or the pool.
Lash extensions are swim-safe with a little attention and care and rank among the top solutions for looking chic by the water! Read on as we dispel some of the myths about swimming and eyelash extensions.
Myth #1: You Can't Go Swimming in Lash Extensions
This is false! You can swim with eyelash extensions! If you give your new lash extensions the appropriate time to set before putting them in the water (this goes for swimming, as well as washing your face and showering), they'll be fine.
For the first 48 hours after getting eyelash extensions, you should avoid getting them wet. Keep water away from your new beauties until the glue for your lash extensions has had time to dry. If you do get them wet, you run the danger of needing a refill after a swim.
You want long-lasting lash extensions. That's why you got them in the first place. But don't worry, you can swim and enjoy the water after the first 24- to 48-hour period.
Can You Swim in Lash Extensions While in the Ocean?
Yes! However, if you're splashing through waves, we do advise putting on a pair of swimming goggles. Goggles will protect your extensions from salt water which can weaken the glue used to attach your natural lash to the extension.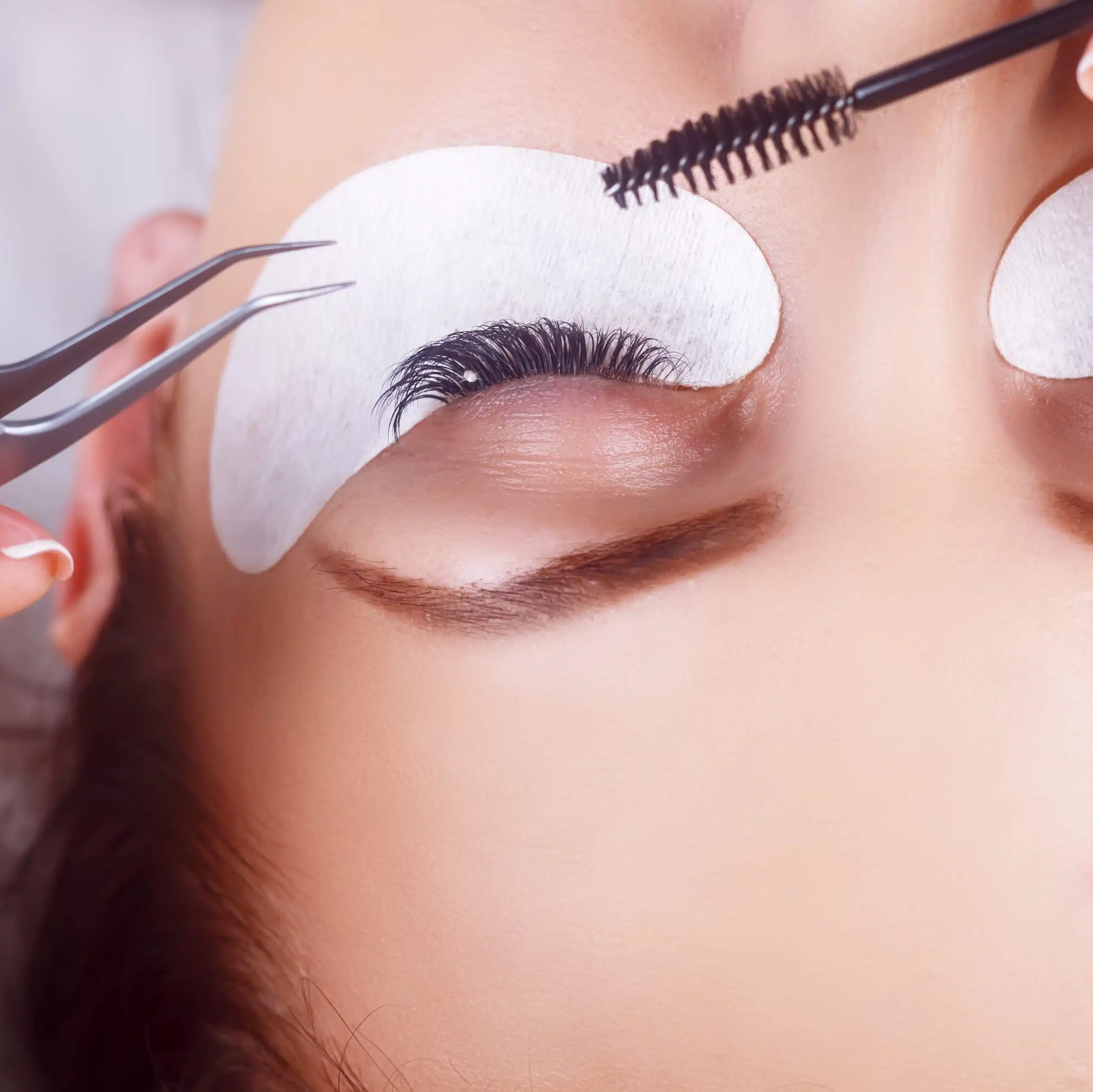 It will also protect against friction caused by the waves hitting your face. Water pressure from waves can put extra stress on your extensions and may cause them to shed early. Your fluttery lashes will have lots of room in your stylish swimming goggles.
It can be tempting to rub your eyes when water gets in them. Your eyelashes may twist out of place as a result of friction from rubbing; in worst-case scenarios, it may even rip them out by the back-and-forth rubbing of your fingertip or knuckles!
So, resist the impulse to rub your eyes. The same is true when using a towel. Be extra kind and pat, not rub your face dry.
Can You Wear Lash Extensions While in the Pool?
Yes, but lash extensions and chlorine don't mix. Chlorine has the same effect on adhesives as salt water does. A brief swim or raft ride shouldn't pose any issues. But for regular swimmers, we advise investing in a new set of extension-friendly goggles.
Saltwater and chlorine can impair the adhesive's binding, which will affect how well the eyelash extensions stay in place. If you spend your pool time diving in the pool or swimming for extended periods, your lashes may fall off earlier than they should. This often occurs when you soak too long in the water or swim often.
We advise washing your lashes after each swim to prevent the salt water or chlorine from sitting on them. First, clean your lashes with a mild foam lash cleaner after rinsing them with fresh water.
Myth #2: Waterproof Mascara Will Work as Well as Lash Extensions
This is false! Mascara, even some waterproof mascaras, can smear or run while you swim. Eyelash extensions, as opposed to mascara, won't give you the dreaded raccoon eyes when you come out of the water.
Myth #3: All Lash Extensions Are Swim-Friendly
This is true. Nevertheless, not all extensions are created equal! Your stylist's skill and the caliber of your extensions are important.
Always pick a stylist who has received considerable training in the science and technique of applying lash extensions. To cure the bonding of each of your extensions, we apply the right amount of glue. You don't need to be concerned if you adhere to our care guidelines (such as waiting the suggested amount of time before your first dip in the water).
Myth #4: My Lashes Won't Look as Good After I Swim in Them
This is false. They can and should look as good after a swim. But for that to happen, you do need to take care of them. To keep your lashes looking as wonderful as they did before your swim, aftercare is essential. After using the pool, you will wash and brush your hair, right? The same holds for your lashes.
By using the appropriate products and adhering to your prescribed lash care routine, you can keep your lashes healthy for longer and ensure that your extensions remain flawless. Here are a few suggestions:
Apply oil-free sunscreen and avoid getting any on your extensions
If swimming in chlorine or saltwater, cleanse your lashes after
Bring a nice, clean towel that is lint-free to gently pat your eyelashes dry
After swimming, run a clean lash wand through your lashes
Myth #5: You Don't Need to Apply Special Products After Swimming
True! But, only if you already have the proper care products for your lash extensions. If not, you'll want to pick them up. You can contact Habitual Lash for the best recommendations.
You Can Love Your Lash Extensions and Swimming!
Rest easy knowing that not only are eyelash extensions superior to mascara while at the pool or beach, but they are also safe to swim with! They make the ideal beach and poolside buddy. But for a relationship to last, just like in any other, love is necessary.
Simply adhere to the above-mentioned best practices for lash care and swimming to keep your lashes healthy for the long run! Not sure if extensions are the right for you? Consider getting a lash lift and tint.
Ready for Lash Extensions in Birmingham, AL?
If you are looking for lash extensions in Birmingham, AL, we can help! Habitual Lash is the place to go for premier lash treatments. Alicia is a pro with a focus on you. Alicia wants to emphasize more than physical beauty. She is driven by a tremendous desire to capture the essence of the individual as a whole, including the mind, body, and spirit.
Alicia created Habitual Lash to provide a healthy, happy, and supportive environment for this to take place. Book an appointment or check out our About Us section for helpful information.