So, you got new lash extensions in Birmingham, Alabama! Like many of us, you grew tired of messy glues and the struggle with false lashes. So you took the plunge and are excited to show off your new luscious lash extensions. Many of us want to flaunt our brand-new set of eyelash extensions as soon as they're finished. It's understandable because they're gorgeous!
We want to highlight them, which often means using some foundation, blush, and lip color. But can using a lot of makeup, particularly foundation and powders, harm your lashes? Whether we should wear makeup while wearing lash extensions is one that lash addicts often ask. In short, the answer is not a difficult one.
Yes, you can wear makeup with lash extensions! But there are several things to keep in mind to make sure your brand-new lashes stay gorgeous and healthy. Read on to learn how you can wear your favorite makeup while enjoying your new lash extensions. You'll also learn how to care for your new beauties!
Can You Wear Makeup With Eyelash Extensions?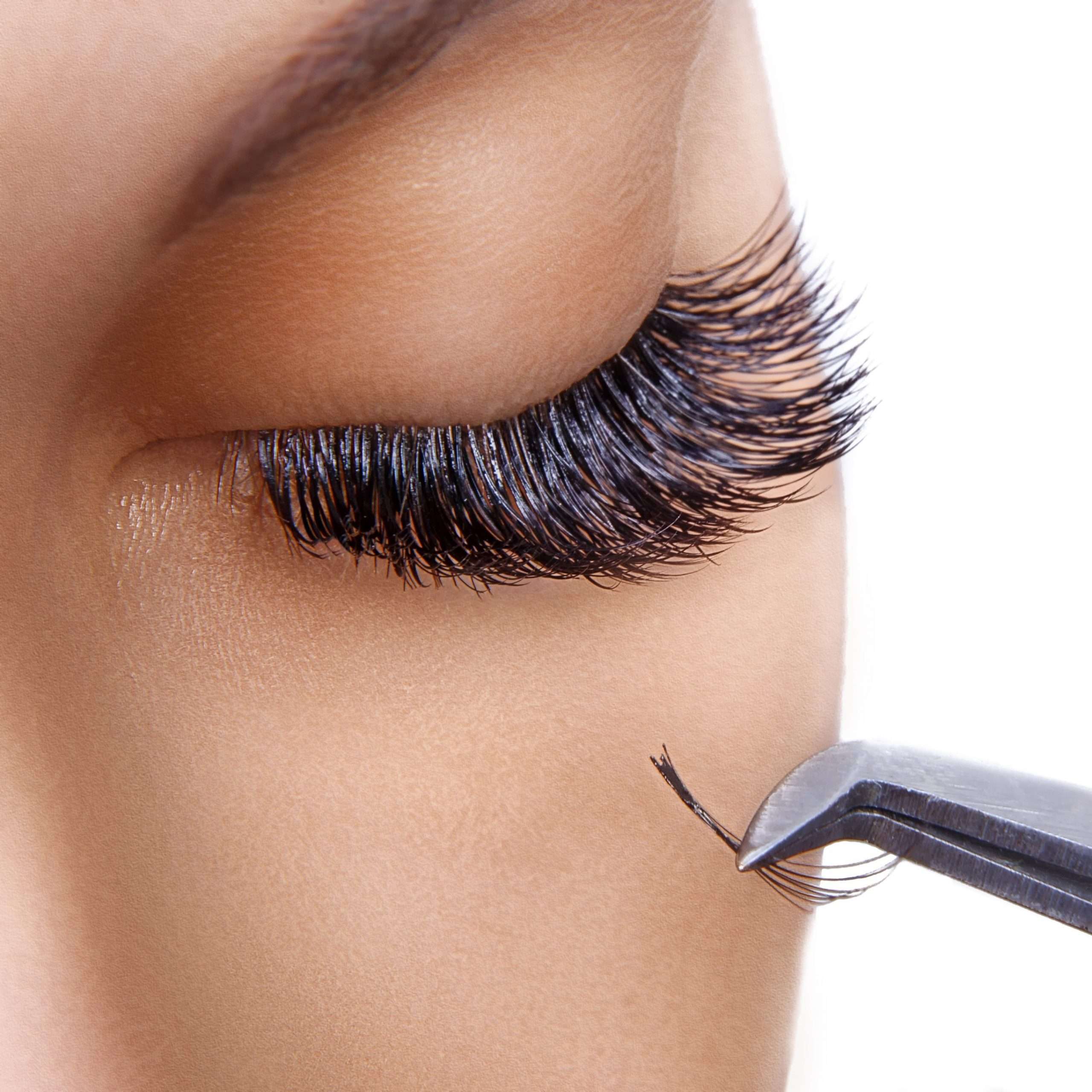 Yes, you can! But, to preserve your lash extensions and lash treatment for as long as possible, your method and products of choice will all be significant. There are a few key points that should sum up the science behind applying foundation when using lash extensions.
The truth is that applying foundation when wearing lash extensions is the easy part. It's important to know how to take off your makeup without harming your lashes at the end of the day.
Try to avoid using very runny kinds of liquid foundation because they could run and drop into your lashes. Also, hold off on applying foundation until your eyelash extensions have finished their curing process. The lash adhesive needs about 4 hours to cure.
How to Apply Foundation While Wearing Eyelash Extensions
You are now prepared to begin the application process. It is best to set aside 5 to 10 minutes so that you can feel confident and stress-free when you apply or do your makeup. Here are some helpful tricks and tips:
When to Apply Foundation
Only after cleansing your face and using your skincare products should you apply makeup. Before focusing on your makeup application, give your skincare products the time they need to absorb into the skin.
Always Prime
If you want to wear eyeshadow, use a makeup primer on your eyes in addition to your face. Use your fingertips to sweep the primer in a gentle manner into your pores while applying mild pressure to your face.
Oil-Free Is Key
Use the oil-free foundation of your choice. Remember, oil-free is key! The greatest option is comfortable, lightweight, semi-matte, medium-coverage, and suitable for your skin type. Use a sponge or your preferred complexion brush to apply the product in tapping or blending strokes.
Be Gentle
Since your eyelid area may come into contact with your eyelash extensions, exercise caution and gentleness there. Do not freak out if you get some makeup or product on your eyelash extensions. To remove the product from your lashes, put a little oil-free makeup remover on a small piece of paper towel and dab. Do not rub!
Don't Blink
Don't blink while you apply foundation or concealer underneath your eyes when using a beauty blender. You are at risk of getting foundation trapped between your upper and lower lashes if you wind up blinking too often.
Ready, Set, Go!
Okay. Now it's time to set your foundation. You'll want to use loose or pressed powder once you're happy with the way your foundation application looks. Use a small, fluffy brush in a circular shape, and press the bristles into the product. The same motion and step can be applied to your eyelids with a smaller brush. Blow away and brush off the residue with a fan or a piece of paper if you do manage to collect some powder fallout.
Lash Extension Care
Remember when we said that the key to maintaining your lash extensions is knowing how to remove the foundation properly? Most women look forward to their nighttime ritual of the makeup removal process after they wear makeup for several hours. Here are a few steps to take to remove your makeup without hurting your lash extensions.
Removing Your Eye Makeup
When using eyelash extensions, use a paper towel or lint-free cotton pad to remove your eye makeup. Avoid using cotton balls or Q-tips near your eyes at all times. On the paper towel or lint-free cotton pad, apply a generous amount of oil-free makeup remover. Next, wrap your eyelashes and hold them for up to a few seconds. Never rub! Wrap them up and give them some time.
Since the makeup remover will absorb all the product on its own, do not rub or move the cotton pad up and down. You can harm your lashes by being too aggressive by rubbing your eyelids. Finally, gently wipe the eye area clean using the remaining makeup remover.
Wash Your Face and Remove Your Foundation
Wash your face with micellar water or a light oil-free cleanser. To be effective in reaching every pore, massage the cleanser into the skin in a circular manner. Be careful not to touch or rub your eyelashes.
Rinse Your Face Well
Make a cup out of your hands to hold the water as you wash your face. A strong shower spray should not be used right on your eyelashes.
Cleanse Your Lashes With Lash Shampoo
The first step in your bedtime ritual should be to clean your eyelashes. Pour a tiny bit of the lash shampoo onto your hand or over a spot that's already cleaned. Apply the lash shampoo on your lashes with a gentle brush. Allow the foam to cover your lashes down to your lash line. Healthy lash growth is encouraged by a tidy lash line.
Dry Your Lashes
Before going to bed, make sure your eyelash extensions are nice and dry. The most effective technique is to use a blow dryer on a low, cool setting.
Enjoy New Lash Extensions in Birmingham, Alabama
If you are looking for fabulous lash extensions in Birmingham, Alabama, Habitual Lash can help! Alicia wants to emphasize more than just physical attractiveness. She is driven by a tremendous desire to capture the beauty of the individual as a whole, including the mind, body, and spirit.
Alicia created Habitual Lash to provide a healthy, joyful, and positive environment for her clientele. She is a sought out professional for lash extensions, lash lifts and tints, and all things lash-related in the Birmingham area.
Book an appointment now, or check out the Habitual Lash About Us section for helpful information.